"Somewhere in the Night" is also released on
Angular Records compilation :
"Cold Wave And Minimal Electronics Vol. 1"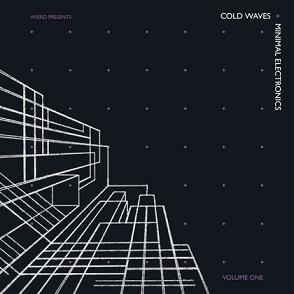 Available on three formats :
CD Digipak, Double LP and Digital Download
:-:-:-:-:-:-:-:-:-:-:-:
The full album 'Somewhere In The Night' is available on Minimal Wave on both CD and LP.
STEREO - Somewhere In The Night CD --- MW015
STEREO - Somewhere In The Night LP --- MW015 *
( * hand-numbered and limited edition )
Both formats include full versions of each song,
as well as an unreleased track from 1985 : Lover On the Run.
To purchase both items, go to Minimal Wave Records !!!
:-:-:-:-:-:-:-:-:-:-:-:
Veronica Vasicka's interview on East Village Radio --- New York City
:-:-:-:-:-:-:-:-:-:-:-:

Record Reviews --- Record Reviews --- Record Reviews
Most of these acts could learn a thing or two from STEREO, a French synth-wave duo actually from the early eighties, whose brief but brilliant career is compiled on "Somewhere in the night" Minimal Waves Records.

Amida good deal offizzing disco and queer white funk, the title track - a simmering sci-fi love song - remains STEREO's masterpiece.
UNCUT June 2009 --- Piers Martin


No doubt the reason most people buy this record will be for the massive minimal-synth/italo/vocoder/etc hits "Somewhere In The Night" and "No More" and for this reason alone it's definitely a worthwhile purchase. I was shocked how good these tracks sound compared to the lacklustre mp3s I'd only heard of them before.

The compilation subtitle "The Best Of Stereo" is in fact a bit misleading, as this record is really ALL of Stereo (minus one track on the vinyl edition) as it collects just the "Assembly Line" LP and "Somewhere In The Night".

Some will be surprised by how conventional the other tracks on this album are and it's hard to understand why the group didn't have more commercial success at the time, when some of their tracks wouldn't sound out of place next to other 80s synth-poppers like OMD, Duran Duran or even Quarterflash (okay that may be pushing it).

For my taste, the best of the new discoveries are "TV News"; an edgy fast-paced track a liitle bit similar to "No More", and "Lover On The Run"; which is pure 80s funk sleaze, nothing challenging, just a perfectly produced pop song that in an alternate universe could be recorded by Billy Ocean.
Of the rest, all are enjoyable and there's really no bad tracks, but deserving of particular mention is the final track "Moonshine", by far the slowest piece with a heavy, hypnotic beat, soft beautiful synths and female vox. I knew this one already from the b-side of the "Black Jack" 12", but I'm very glad it's included here as it's equally deserving of attention as "Somewhere..." and "No More".

The record is really a nice package with a high quality reproduction of the original "Somewhere In The Night" cover art (surely one of the greatest 12" illustrations), a glossy insert and most importantly a heavyweight vinyl pressing (that smells pretty good too).
Overall a great job by the Minimal Wave guys and a good example of how a comp or re-issue should be done, with excellent sound quality and money going to the original artists Bernie Adam and Terri Noritop (who is still producing music) rather than the tracks appearing on some soul-less bootleg.

OTHER MUSIC
Somewhere in the Night is a collection of recordings, circa 1982-'85, from France's Stereo. The three opening tracks are full of some totally unexpected workout video/jazz-wave vibes that had Other Music's Karen and I wondering why we couldn't stop listening! I kept hearing shades of "Xanadu," Irene Cara's "What a Feeling" and the Blade Runner soundtrack (only imagine Vangelis collaborating with a mellower Visage and a more mysterious Human League and Roxy Music) all rolled into one infectious train wreck. Then the epic drama-dub of "Moonshine" came on. Karen and I both smiled and looked at each other with knowing nods of the head. It all suddenly made sense; embrace this record and don't be afraid. I know the description might sound a bit scary, but Somewhere in the Night actually rules! There is an unabashed sincerity to the entire package that just works. Not only is this a very welcomed curveball from the label, it's also the very first release on Minimal Wave to be made available ("Gasp!") on both vinyl LP and compact disc, as well as MP3 download! (The CD version comes with a nicely printed poster to match the LP's insert, just ask for it at the counter.)

- Scott Mou (28th January 2009)

NOISE SFBG Music Blog
1980s duo Stereo's criss-cross sunglasses put Kanye's Venetian shades to shame. Minimal Wave delivers once again with this synth jam gem. I'm on the lookout for another recent Minimal Wave release, a vinyl-only collection by Linear Movement. But Stereo -- not to be confused with Kompakt figurehead Wolfgang Voigt's early recording project of the same name -- has surprising songwriting chops. My fave track might be "Nowhere in the Island," which uses the echo vocal effect so beloved by circa-1983 new romantic acts to great effect. It includes saxophone and yet still has a potent air of melancholy. I wonder if these two French guys every rubbed pointy shoulders with Bernard Fevre of Black Devil Disco Club.
Johnny Ray Huston (13th April 2009)