INTERVIEW PAGE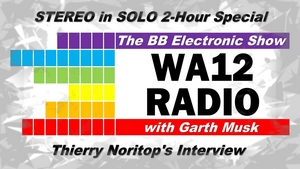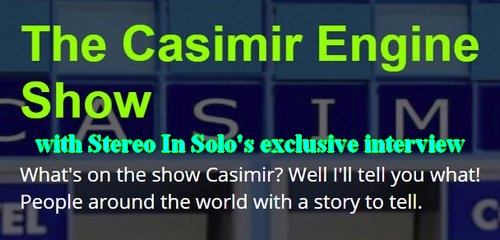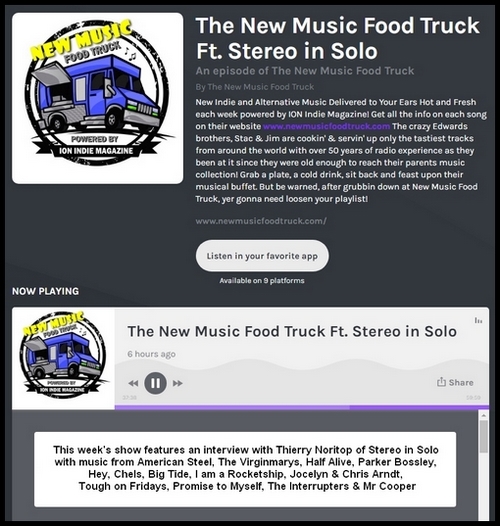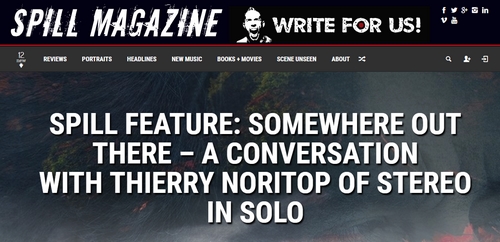 The complete interview with Aaron Badgley
Aaron Badgley: Stereo In Solo is your first solo album, what made you decide to release a solo album in 2018?
Thierry Noritop: I had been thinking about this solo album for a long time but I was wondering about the quality of my voice and I was also a little apprehensive about writing the lyrics because English is not my mother tongue.
Aaron Badgley: Can you explain the name Stereo In Solo?

Thierry Noritop: STEREO is the band I did with Bernie Adam in the 80s... then our return in 2014 for the release of the album "Back to somewhere", following the release on Minimal Wave records of our work in the 80s... I wanted to keep this name STEREO which represents an important part of my life and add this "in solo". I wanted to take STEREO in MONO but the name was already taken.
Aaron Badgley: What is your creative process?

Thierry Noritop: I often start with a drum loop to get a rhythmic groove. Then I start either with a bass line or a chord sequence and then I try to stick a vocal melody to it. It rarely exceeds 30 or 40 seconds, I save and listen again a few days later to get some perspective (see several weeks later). Sometimes I almost finish writing songs quickly if I like the stuff and I'm inspired. I'm above all a guitarist but I don't write anything I like with my instrument, I almost only compose on keyboards.
Aaron Badgley: What did you do between stereo and today?
Thierry Noritop: Many things... Jingles for radio, advertising, corporate movies, records as a composer and especially a lot of relaxation CDs (too much...) but for almost 15 years, I didn't write a single song, it was a mistake but I think I didn't have the right connections at the record company level.
Aaron Badgley: To what extent does life in France influence your music?
Thierry Noritop: Hard question because I don't really know. I live in Paris, right in the middle between the Louvre & the Centre Pompidou, so I suppose that the atmosphere of cities in general is more conducive to my way of composing. If I lived in the country, maybe I'd do something less urban.
Aaron Badgley: Who are your influences?
Thierry Noritop: I learned to play guitar with the Rolling Stones (thanks Keith). I grew up with major artists like David Bowie, Genesis with Peter Gabriel and Steely Dan, then Joni Mitchell from "The hissing of summer lawns" and Rickie Lee Jones. From the late 80's, I became addicted to Prefab Sprout and that Scottish band wonder The Blue Nile. Unconsciously, they certainly influenced me even though I know that deep down, I would never achieve such a quality of writing.
Aaron Badgley: What is your opinion about the resurrection of the 1980s?
Thierry Noritop: I love this resurrection. Fashion is cyclical and always will be, it seems to me that people have this vital need to go forward but also to look back, to listen to sounds that are quite current from the return of vintage synths on many records of the years 2010.
Aaron Badgley: Possible re-edition of stereo material....there must be new material?
Thierry Noritop: There are few... not at all because I always throw away what seems average or bad. There were also losses in my moves, computer failure or magnetic tapes that did not stand the test of time.
Aaron Badgley: Who is on the new album?
Thierry Noritop: I did it all alone in my home studio with only one outside intervention for the saxophone, I even mixed it all but I would have liked to mix in a "real studio" but I didn't have the budget for it. I learned a lot about the art of mixing with Ralf Beck, the German co-producer of "Back to somewhere", watching him mix this album. Thank you Ralf!
Aaron Badgley: Who are you listening to these days?
Thierry Noritop: I really like Jonathan Wilson "Rare birds" and his two previous albums, the new Get Well Soon and following the purchase of David Bowie's box set (1977-1982), I plunged back into what I consider to be the most creative period of this exceptional artist. I recently discovered a very talented indie band The Color Theory, listening live to some radio stations that were programming STEREO in SOLO. Thanks for this interview!

The Author Aaron Badgley
Born and raised in Whitby, Aaron Badgley discovered music through his love of The Beatles. This led to a career in radio, writing for various publications, and ultimately a radio show about The Beatles (Beatles Universe), which ran for over four years. When not immersed in music, Aaron enjoys spending time with the loves of his life -- his wife Andrea, and daughters Emily and Linda (all of whom have an intense love of music too).
Warm thanks to Aaron, Stephen & Arvin at The Spill Magazine

INTERVIEW with Nostra Dam in Top80Musique